Savage Tide
Emira Brighton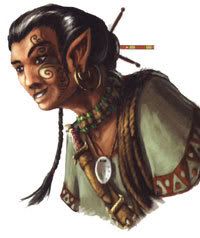 (CG female elf, rogue 2)
Emira is a common sight around the docks of Farshore, always looking for her next job. She is noted for her incessant singing and whisling. For that reason she is often assigned the role of lookout and rigger a job she handles well and it keeps her away for the rest of the crew. She spends most of her time up the masts, keeping an eye toward the horizon while working to make sure that the sails are full of wind.
---
Benefits: Spot +8, change speed at up to 20 feet per round, +2 bonus on Profession (sailor) checks to come about.
Cost: 2gp a day.